---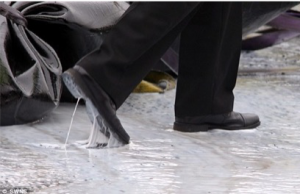 I don't mean what makes something self-adhesive… that's glue. I am talking about a product that customers seem to carry on buying with little chance of the competition getting a look in.
Investors will often salivate over a business that appears to be operating in a sticky market. There is a fairly simple definition of this type market in rational economic terms:
The cost or risk of changing supplier is greater than the likely saving in price or increase in value to be gained by doing so.
There are common conditions which often indicate a market is sticky:
Relatively Low-priced Items
This means that any saving from switching is likely to be small. A 20% saving on next to nothing is next to nothing.
Perceived as Critical
Anything where failure has a cost to the organisation or disruption to everyday life i.e. a new untried supplier might bring things to an ugly or chaotic halt.
Repeating Purchase or Subscription
The purchase decision was already made some time ago. The rationale may be lost in the mists of time but people assume it was logical, hence you automatically purchase from the current supplier.
Effort Required to Disengage or Switch Supplier
Difficult to cancel subscription, complicated to research and evaluate a substitute supplier. Reconfiguration, reorganisation or re-training needed to use an alternative.
These are the logical and rational reasons that make a product sticky. There are loads of other emotional and instinctive drivers of sticky markets some of these are perfectly logical when dig a bit into the human psyche. Popular sayings often give clues to these. For instance: "Better the devil you know…" "There's no such thing as a free lunch" "They are not perfect, but they do the job". If any of these show up in market research or commercial due diligence, they are good indicators.
Often, but not always, businesses like this have pricing power – headroom to increase prices without losing too many customers. The reason for this is simple if you think about it:
It is not the supplier, but the category of product that is sticky. Therefore, it takes a lot to win business in the first place. The incumbent may have had to offer an eye-watering discount. So, when the customer was first won, the supplier had under-priced the product. Unless there has been a strategy to increase the price significantly over time, they are likely to be still under-priced now.
Herein lies the catch that many investors don't spot. It is by definition difficult to grow in a sticky market. Salespeople will struggle to get appointments, products will find it difficult to get listings or shelf space and worst of all, the heavy discounts required to shift the incumbent make the price look too good to be true.
So, a word to private equity… If it looks like a sticky market, check it ticks the boxes above. If it is a sticky market, don't expect any organic growth… even if the product has competitive advantages. The exception to this is where the product category is new and the market not fully penetrated or the supplier's offering is unique and ideally has some IP associated with it.
The good news is though, unless the management have been actively on the case, there is usually a fantastic pricing opportunity with all the pleasing results this brings to EBITDA and enterprise value.